Category: Feature Profiles

Here is Mukti Silberfein, who is a lead organizer of the Bhakti Fests', alongside her father Sridhar Silberfein
Bhakti Fest plays out a great story: of a determined group of yogi's with a dream of descending upon popular culture. Have you met Sridhar Silberfein, Executive Director of Bhakti Fest? Bhakti Fest incorporates the elements of yoga, devotional practices, art, transformational workshops, and kirtan music. It's an incredible series of events that has now grown to 3 yearly festivals. I had the opportunity to interview Sridhar, and ask him specific questions about his life, and his spiritual journey that brought him to creating Bhakti Fest. I also spent a week in Joshua Tree. I was happy for a reason to visit devotees, the desert in particular, and the yoga music scene in general;. The weather in Joshua Tree as it happened, was lovely, the food fantastic, scenery magnificent, and the people in general supremely courteous and hospitable. The sun was certainly bright out there, but nothing my sunglasses couldn't overcome.
Is there any spiritual significance for you living in the desert? Are you attracted to the desert for any particular reason?
Yes, I came out here to continue my practice in a very quiet way. I find the big cities are pretty much finished for deepening your sadhana. You need to go to quiet places. I chose the desert because I have an affinity for the dry quiet climate and nobody around.
Do you think the United States is still as rich in kirtan and spiritual study as in the early days, when yourself, and several others began building the scene from the ground up?
Yes, it has the potential, but I find the young people are very intimidated and scared and they're afraid to make any moves of doing anything out of the ordinary. The government has kept a lid on all the young people through their devious ways. Young people are afraid to step up and go deeper. There's a lot of Christian Right Wing Organizationss who have infiltrated the government and are keeping everything the same. The government, military and mega corporations don't want anyone to expand their minds. They want people to be robotic. They want to be able to control, and they do that by passing certain laws.
However, now there's an upswing in the ability for people to step out of that box and find yoga. Yoga is now a $30 billion dollar a year business. Kirtan is a big component. Most people who are doing yoga have not gotten into Kirtan. Kirtan's going to be the next big movement. We started it all in the 60's and 70's and we maintained it with small gatherings at homes and ashrams.
Personally, I still maintain a daily practice of yoga and meditation and try to chant mantra.
That's why I decided to put together the Bhakti Fest.
There's some pretty meaty spiritual history worked into your life. Can you give us an idea of the breakdown of your personal spiritual journey?
I started very early in my life in my teens. I realized that at an early age, what schools and colleges were offering was not enough. Most of what is taught in the curriculums today and in the past 50 years leaves a lot of personal interpretations. Finding that there's more to life than what our parents, teachers, and what our government tells us are very significant. I wasn't afraid to start to go out and learn. I read and studied. I took my share of psychedelics.
In the 60's I met my first teacher whose name was Rudi in New York City-he was the only western devotee of Bhagavan Nityananda who is from Ganeshpuri, India and was an Avadhut and he had major siddhi powers. He spent 35 years in a loincloth, and they would have to come and put a blanket over him in the wintertime. He was in a perpetual state of enlightenment. He was capable of seeing the past, present, and future at the same time. He didn't think about body, or food. He was always in an enlightened state. He was always in that state, and you couldn't shake him out of that state. When people came in front of him major miracles changed their lives. Things happened to them, things that were unheard of, or unforeseen. Words could not be used to describe it.
Someone had told me about this man named Rudi – he was also the biggest importer of arts and antiques from Asia. That was his business side. He also had another side was that he was able to transmit shaktipad. During the 60's, nobody knew what that meant. Transmitting shaktipat can happen in a few ways, through direct contact with a spiritual teacher through their eyes, a hit by a divine being, a kick in the rear, or a word.
I went to visit Rudi one day and he invited me to come to one of his classes. They were small classes maybe 15-20 people. He didn't come on as a Guru, he was a teacher. He would gaze into the eyes of each of us in the group. He would look directly into your eyes. You would have this major experience of kundalini rising. It was coming from this big, huge picture of Bhagavan Nityananda that was sitting right next to him.
Srila Bhagavan Nityananda
That's who was transmitting the Shakti, with Rudi as the vehicle. So, I can say that I was awakened by Bhagavan Nityananda in the 60's as a very young man, and I knew that there was so much out there. Once you see the universe, lights, colors and sounds, and you see the vastness of it. You see that it's eternal. It goes on forever, and there is no stopping it.
So I started to study with Rudi in the mid 60"s.
I met my second teacher Swami Satchidannada. He came to America in 1968 and I studied Hatha Yoga with him (from the Sivananada lineage) and became one of his main teachers in NYC. at the well know 500 West End Ave Center That was a very interesting time for the spiritual movement in the USA.
Swami Satchidananda
During that period, I was by day an established Real Estate Broker and counted amongst some of my friends were Michael Lang and Arty Kornfield, the Producers of the Woodstock Festival, I was like their younger brother. I would go over there and hang out which we did a lot of, and do all the stuff the 60"s were famous for- pot, psychedelics, love etc.
I was also a yogi at the same time, working with balancing everything in moderation- It was at this time when Mike Lang asked me what I thought was missing from the Woodstock festival. I looked it all over and said, I felt that the Spiritual aspect was not there. O course they had all the great acts, or to be great acts, but the spiritual element was not there. They turned to me and asked what we should do. I said, let's bring Sw. Satchidannada there to give the opening invocation. They jumped on that idea and told me to go ahead and produce that aspect. We then brought Swamigi up by helicopter, landed him backstage, and brought him onto the stage (you can actually see this moment on the Directors cut of the Woodstock movie)- when he got up there he exclaimed "oh my, the Indian country should see this now. Everyone getting together for a peaceful, loving music festival- it was amazing and at that moment standing on the stage looking out at 500,000 folks, a bell rang in my head saying- "wouldn't it be grand to have all these folks someday chanting mantra's and the Divine names- 40 years later Bhakti fest was born.
Swami Satchidananda at Woodstock Festival
You speak about balance-A balance in what? Your social life and your spiritual life?
Everything in moderation, drinking, substances, even sex. If it's done in moderation everything is good for you. Go for excess and people flip out, and go over the edge and can't bring themselves back. Most important is your intent behind everything. If it is sincere and with love and compassion, it will all work out. However, best is a vegetarian diet, with very little alcohol and very little pot smoking.
How did you meet Swami Muktananda?
My first guru came to America in 1970. His name was Swami Muktananda and he was the lineage holder after Bhagavan Nityananda. Bhagavan Nityananda is my Param Guru overall, huge master. Mentioned before how I studied with Rudi during the 60"s, and that is how I also met Sw. Muktananda for the first time
Swami Muktananda
What is the meaning of Param Guru?
One who is ever present, ever in a state of enlightenment, not this, not that. All pervading.
Labor Day weekend 1970, we were all up a place called Big Indian, Upstate New York. Ram Dass was there and Hilda Charlton a great female psychic, and Sw. Venkatasananda- devotee of Swami Sivananda Ashram in Rishikesh, and maybe 60 or 70 others with us there that weekend. Those days we were able to sit in Swami Muktananda's room and sleep on the floor by his bed. We didn't even know how great he was at that point. That weekend he asked me and Ram Dass to organize his tour around the USA. I travelled across country with him and settled in California in 1970 after Sw. M went back to India- He kept calling me to come to India, but, I was busy establishing a family and starting the first Natural Food Store in SoCal in Topanga Cyn called The Food Chakra. We hosted him when he came back in 1974 and also in 1980, and then he left his body in 1982. After he left his body, there were a lot of troubles within the Siddha yoga organization. I decided to drop out at that point because of the drama and difficulties. As soon as I heard about his death, I flew to India to help put his body in the ground and cover his body with a huge concrete casket. It's interesting talking about this now because his 104th birthday was last Sunday, May 4th. Great great man. When you have a living Guru and he passes there are many emotional feelings about that, it's like the lose of a Father or Mother.
How is your physical family different from the spiritual teacher?
Your parents bring you up to the bridge and the spiritual master takes you over the bridge. Your parents can't take you over the bridge. They can give you insights and understandings to their capabilities and knowledge, which is limited to what they're offering from their experience. The world is open to everybody; you just have to step out. Everybody wants to hold you back and stop you from advancing.
Why do they try to stop you from advancing?
Most people are unhappy for many many reasons, mostly because they don't have a path, and their ego takes over their life. If you're experiencing bliss and happiness they will try to hold you back. That's why I say to everybody, if you can't spend time with satang and other people who have the same spiritual path, then be by yourself read, meditate, and study. Other people will come into your life who will want to associate with you.
Did you find spiritual association after Swami Muktananda?
So I knew there was another being that would come into my life that I would feel very close to, but I was waiting for a while after Swami Muktananda. He was a very big prescence.
Many years later I met Ammachi, the hugging saint, and the most famous spiritual female presence on the planet. When I first met her I met her at the Universalist church, in 1988 in Berkeley, and I found myself walking her out to her minivan outside. It was an old beat-up blue minivan. No limousine, just down to earth. There was a puddle between the sidewalk and the car, and I threw my coat down on the ground on the puddle so she wouldn't get wet. She looked at me and said "What's your name?" I said, "Sridhar" and she said, "We've been together many lifetimes"
Mata Amritanandamayi
After that, I asked her to come to LA and she started coming to LA and staying in my home for the next 17 years where we organized her tour, every time she came to Los Angeles.
My path has always been steep deeply into the Guru-Disciple relationship, for me, it is very extremely important. Many folks do not have this understanding out of fear, fear of giving something up or having to give their monies or power. The only real thing you have to give up around a real Guru is your EGO.
What does the Guru Disciple relationship mean to you?
I spend my time with teachers and gurus, spending time with people more highly advanced than myself because that's where I believe personal growth and surrender will take place. They force you to look at your ego. Otherwise you wallow in the Maya, or illusion.
When did you first become interested in kirtan?
Mostly when I met Swami Muktananda, and he had all Hindu kirtan every night in 1970. This was traditional Indian kirtan, and that's when I started to immerse myself in that form. I realized that was an important part of the yoga practice. The yoga, meditation, and kirtan were all parts of it. When I asked Muktananda how important chanting was to the whole practice. He said "Sridhar, forget about yoga, or meditation. Close your eyes, sit down quietly in the room and chant the names of God and nothing else matters.
What happened during your time with Muktananda?
He spoke no English. He had a translator and would travel with a translator. He would travel with 8 or 9 people. 1974 he came to stay at my house, and there's an interesting story about that. He was walking around the house on 7 acres in Topanga Canyon, California. He looked out into the sky and he said "Sridhar, nothing will ever happen to you here. My Guru will bless you, and this place is blessed by my Guru Nityananda." The very next year 1975, a very big fire came through Topanga. I sent my wife and two babies out and moved stuff out of the house. I stayed there fighting the waves of fire. My neighbor next store came over to my house and 30 ft. wall of flames coming straight to us. He was crying while his house burnt down, I put my arms around him to console him. But had to run to save my own home, I had my car's engine on 6-7 hours waiting for me in the driveway in case I had to run out. The fire dept. helicopter came and flew over and said, "Abandon, Abandon, we are no longer responsible for your place, it will burn down, save your life." I stayed with one my friends fighting the fire and it was coming towards the house, as the 30ft wall of fire was coming to the house and I ran out on the deck the same spot on the deck that Swami Muktananda told me about his Guru blessing the house.
I looked up to the sky, and yell on top of my lungs "Baba, Baba - You said, you promised me that I was going to be blessed here and nothing bad was going to happen to me here." I was screaming with tears in my eyes. At that exact moment, the wind came up and turned the fire away from the house and sent it downwind and the house was saved. That's the power of the Guru Grace.
How was your spiritual upbringing?
I was raised in a traditional Judeo-Catholic. I was raised Jewish, had a bar mitzvah. I grew up on an Island. This island is called Long Beach. 1/2miles wide, 3 miles long, connected to Long Island. The title of this town is "America's Healthiest City." Nice place to grow up with a middle class home. We didn't really need anything. I grew up in a dysfunctional family like everybody. That disfunctionality drew me to the spiritual path. My mother always lights candles for her mother who passed away when she was 42. My grandmother died in my mother's arms. There is a lot of work ethic and service in my family. They don't call it anything like what we call it today. There are old time virtues for taking care of people and your family.
Was your family instrumental in connecting you to your spiritual life?
Indirectly, I would understand some of my mother's psychic abilities, and I would say it was not typical that I stepped out of the box early, but I was blessed in having an early realization. So I said wow, living on an island walking on the beach, warm water, spending a lot of time by myself. A lot of this is destiny, and karmic destiny comes to people spending so much time with the Guru's in past lifetimes. If you realize about reincarnation, you must understand that this is not our first go-around. Say the average lifespan is 60 years. We've been together 100 lifetimes in various forms like mother's father's sisters and brothers, dogs, parakeets.
This is we, this is who we are. When we come back together we sense a familiarity together, feelings that we've met each other before, but what you really recognize is a past lifetime together for many incarnations. Not only are we working out our karmic predicament in this lifetime, which are all the actions we've done in this present body. We're still working this karma out from multitudes of hundreds of other incarnations from our past lives. Even if we're doing big work now, and a sledgehammer comes down on our head, and 300 years ago you cut off somebodies head and that karma can come back to you. It's such an interesting take on it that there's so much more going on that now, we're tiny little peas in the pod. There's such a bigger picture.
When did your first go to India?
The first time, I was a late bloomer in India. I didn't go until the 1980 and most of my contemporaries went in the 60's and 70's. My Guru Sw. Muktananda, used to say to me every year in the 70's. "When are you coming to India, Sridhar, where are you." I always had family and business. I felt it was important to stay there and take care of my responsibilities. Then, in 1980, I finally arrived in Bombay, India. I got off the plane; I fell on the concrete and actually kissed the ground of Bombay. Imagine kissing the ground today ugh, gross. I was crying with tears in my eyes. I have been back every single year since 1980. I always add a couple more holy places and destinations. Rishikesh, Kerala, this past year, we hiked the Chardharm, which is the holiest trek for the Hindu's in the Himalayas, Four Sacred Peaks of the Hindu religion, which are Badrinath, Kedranath, Gangotri, and Yamunotri. We climbed all four peaks. They say if you do all of these four peaks at the same time that your life is forever blessed and all of your sins are washed away.
Where else do you want to go in India? And other places in the world.
I am drawn to holy lands and places of worship-I have my spiritual bucket list, and things that I'd like to see and I prefer to go on long treks. Kailas is up there on the top of my bucket list. It's very difficult to get to, and you have to deal with the Chinese. 52 kilometers, Macchu Piccu of course, and the Pilgrims Path with are 800 kilometers walking from the Pyrenees, France across Spain.
Can you tell us some stories or sweet moments you had with your spiritual teacher and what lessons you learned with some of these great beings?
That's a whole chapter in itself. That's a big one because I've had so many, so many good teachers and lessons. For example, when I travelled with Swami Satchidannada and stayed in a home in Europe, and there was a screen door on the front door house and unconsciously I kept slamming the screen door every time I'd go in and out. He said "Sridhar, what's the matter with you" I said "Everything is okay, why what's the matter" He said "Why do you keep slamming the screen door every time you go in and out." That was a lesson in being aware of the surroundings, always watching, and doing the right thing at every single moment.
I had so many lessons with Ammachi also. These beings give their teachings in a very subtle way, and you have to get out of your ego in order to hear them. One night we were coming home very late from a program at a Los Angeles hotel, driving up to Topanga 4-4:30am morning and I had a splitting headache. She was speaking with a loud voice with one of her Swami's who sat in the front, speaking very loudly in her language discussing some important Ashram business. I had a viscous headache, and was only concerned about my own self. I said to myself in my mind "Oh, Amma you're talking so loud and I have such a bad headache, can't you be a little quieter." This is what was happening in my mind. We got back to the house and up the driveway; I was just about ready to get out of the car. She taps me on the shoulder from the back seat and said "Sorry I was talking to loud and disturbing you, I had some very important business to discuss about the ashram"
This is all about respecting the Guru Disciple relationship. If you can manage to do that your life can be so much happier. In other words, your Guru understands everything that is going on in your mind. They know your past, present and future. You have to be very careful to have the most pure thoughts as possible. Otherwise you're sure to get cut down.
I used to own a company called Desert Essence Cosmetic during that time, I ran a big business. I discovered a few important oils and brought it to the marketplace. I built a very nice bathroom for Amma, for when she came to the house to stay-I always left some of the lotions, shampoos, conditioners etc on the bathroom counter for her to use- Amma used to love it, used the lotions, and used the shampoos. I was very proud that I was making a product that a great Guru like that was enjoying.
On the way home one day driving, I said "Oh Amma, I heard you loved the products so much, maybe you will hold a bottle up of the shampoo and say how wonderful it is and we'll do a little commercial". I was joking like hahaha. Then bang, she never ever touched any of the products again. Never looked at it, never opened another bottle.
Even if you're joking, you don't joke around like that. You don't even bring up ego stuff in the same breath as your regular world. They are all powerful teachers. Great moments from my life are lessons I've learned from spiritual teachers. When I was with Swami Muktananda in India, he would carry a stick around with him. If he tried to teach you something and you didn't get it because of your ego was to far gone, he would gentle and sometimes not, whack your back with a stick to wake you up.
What's been the hardest thing about organizing and coordinating spiritual masters to come to America? And the most fun, or satisfying?
Spiritual masters from India, heard about the Center for Spiritual Studies, we hosted them at our Center and in some cases sponsored their trips. Kalu Rinpoche, Swami Chitiananda, Sw. Satchinannda, Sw.Vishnu Devananda, Sw.Muktananda, Ammachi, Yogi Bhajan, the list goes on and on. To have them in the living room, serving them lunch, driving them, was a very rewarding and special time for me, and for the many devotees that lived at the Center the satisfaction came to me from all the people that happened to be turned on to who they are. That for me was the real seva (service). The most difficult thing is dealing with a lot of people around the Guru's that think they know what they're doing and they really don't. Everybody has a high inflation of misunderstanding of who they are. Till you get down to the nitty gritty we don't know anything. A student should come to the table thinking that they know nothing. That's humility. Humility is the key to everything. In life it is all about the H word.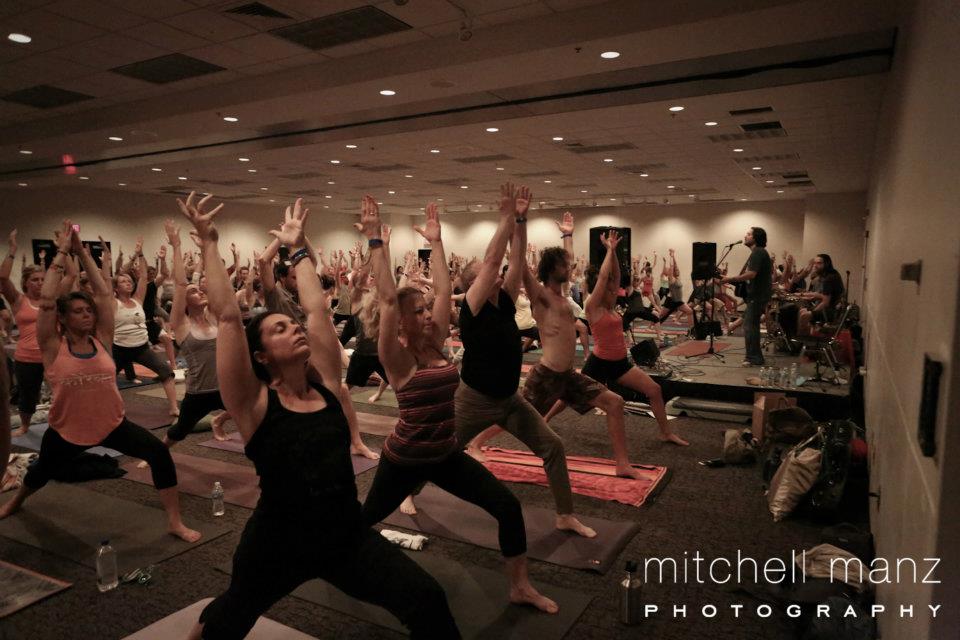 What is the H word?
Humility. It's lacking in everyone's life. Best thing to say is I don't know, even if you do.
What do you say to people who use religion as a pretext to violence or killing?
It's been going on for 10 thousand years. The original context of religion through the eyes of Moses, Christ, the Buddha, or Mohammad was peace love, service, and compassion. This was the original doctrines. What happened over the years is that the Church and hierarchies of all of the various religions wanted to control they wanted to make the money themselves. It's all about greed, money and control. What happens when you have greed, money and control? You have war and violence breeding. That's what happens. We as individuals have to keep setting the example and making love a part of our everyday life, which we try to manifest at the Bhaktifests.
I understand you started Triloka record label is that true?
After the Center for Spiritual Studies started we were looking for a vehicle to put out the recordings of Krishna Das, Jai Uttal, Bhagavan Das etc. So we started the first spiritual record label with Paul Sloman and Krishna Das. We needed a record label, because most producers or record labels did not understand the genre of kirtan. Triloka started with Krishna Das. Triloka produced Krishna Das's first CD and Jai Uttal's first CD. The CD market is now is pretty much finished. The only people who make any money are people who produce their own, and who sell their recordings at Kirtan and festival events.
You now have all of the resources to do your own Bhakti Fest production, coordination, directing. What's the biggest barrier you've been up against?
It's always finding the great, wonderful people who are aware and who have the same vision who are into service.
At what point did you start thinking there was a full Bhakti festival in the making, and when did you make the transition to festival producer?
As I mentioned earlier the seed was planted at the Woodstock festival. It's been growing and growing over the years. I wanted to bring together all of the modalities of yoga and all of the modalities of kirtan. Bhakti Fest was the first festival that invited the Hare Krishna's. Other festivals never invite them and they have alienated so many people. So I invite them every year. In late 2008, I had another dream in my meditation to put together the makings of the first bhakti fest and in 2009 I took a chance and it manifested. It's been going on ever since. We've been doing 2 a year, and now in 2012 we have 3 and we'd like to have 4 or 5 next year. We'd love to spread the Bhakti Fest all over the country and even take it international. Bhakti Fest moves with the energy. We're the only festival to do a 4 day 24 hr. non-stop kirtan. There's not much sleeping there. Energy is pulsating 24/7.
Is it a tough balancing act over there between making friends, producing the festival, chanting kirtan, and I assume, doing business for a living as well? Any advice on how producers and directors can balance all of their commitments while talking something on like a festival project?
It's extremely difficult. You have to have a lot of patience, a lot of humility. You can't get caught up with everybody's wish list because everybody has their needs. Now everyone is a Kirtan Star and a Yoga teacher. We still get at least 5-submissions every week for people who want to play kirtan. We have 2 stages now and we're going for a 3rd stage next year. It's a very difficult balancing act, but you have to be very vigil. Have good association, and a lot of patience. Don't overreact at every little thing that comes up. I still overreact. Just for a second, I step back, and realize okay, it's all okay, everything is fine. Just have to do remember to do everything with love and compassion, that is the tricky part.
What is the best event you have ever put together?
I think these Bhakti festivals are the highlight of my whole life. I mean, I've put together great productions with Ram Dass and various Swamis' that I mentioned and a big New Age gathering in the 70"s where 5000 people have come and I was responsible for holding the space for that. There's nothing better than at Bhakti Fest having 3 thousand plus people on Sunday night for the closing ceremony chanting Mahamantra on the main stage. What could be better than that?
Sridhar Silberfein chanting the Mahamantra at the closing ceremony of Bhakti Fest Midwest 2012
If you could influence the bhakti movement in one way right now what would it be?
By continuing to having our festivals and bring more people into the fold and spreading the love and message out to as many people as possible.
The lineup consists of many artists. Are there any you personally invited to play the event?
Submissions go through the committee. The staff does the invites. - But through my many years associating with the main kirtan wallahs and yoga teachers, I personally invite them. We also created the second stage, in order to introduce new up and coming talent. We are open to the kirtan wallah's that want to come to Bhaktifest. For example, I met a woman named Carrie Grossman, she's living in the woods in a log cabin home in the middle of Massachusetts and did an album that was totally fantastic, and I loved it. I called her home personally and invited her in the middle of the night.
I try to listen to everybody's CD's submissions. What a blissful state that is. We tell people to send in a CD and let us check it out. We're the only kirtan festival that goes all night. We start at on Thursday morning at 8am, and go straight through Sunday night at midnight. 4 days nonstop. Of course there have to be many groups going in the middle of the night
What kind of kirtan groups are you looking for Bhakti Fest?
I try to listen to everybody's CD. However, I noticed that over the years there are 2 types of kirtan artists. There are those that chant to the ego and those that chant to God. We're looking for the ones that chant to God at Bhakti Fest.
How do you manage to keep that schedule going?
That's why we have 2 stages, one is the main stage. The second stage goes for 12-14 hours a day, and at night time we have kirtronica dance jam that goes from 12midnite to 4am as well. That's quite a program, and it takes serious juggling and scheduling. We also have 3 yoga halls, and a wisdom workshop hall, and a breath work hall that has to be scheduled as well.
Which organizations or people would you like to extend a personal thanks to enable the festival to come to life?
All of the charities that we deal with, we're very grateful to them that we're able to help raise money for them. We think about what we can do for them. That's the way we want to look at it. What kind of service can we perform? That way we don't need to ask anybody for anything. We raise our own monies and do our own work. Of course, just one person could do none of this. It takes a combined effort of many people.
Do you work solely with volunteer?
No, we have 40 paid staff and 120 volunteers.
A few of the incredible staff at Bhakti Fest -
Where do you think kirtan is headed in its evolution?
Kirtan is headed only upwards, deeper, and more meaningful. More people will open up to it. More people are stepping up their practice by being around it. We'll have 10's of thousands of people chanting kirtan. It's not a fad. It's been around for five thousand years. We're only experiencing it now. Yoga and chanting is not a religion, it's not a cult. It's a way of life. It's a beautiful way of life. We're so happy about meditating, chanting the names of god. It goes on all the time in Churches, synagogues, mosques everyone sings to God in their own form.
What do you hope people walk away from Bhakti fest with?
More love. More compassion. More desire to do service. More desire to have people take care of themselves and each other. More interest in chanting the divine names. People come up to us at the end of the show and say please let it never end. Let's have bhakti fest every day of the year and take all the love, compassion and service they got for 6 days and take it to help everyone else see what a great way to live that life.
Do you have a singular code of ethics from which you are governed?
Well, I try to maintain a level of integrity and a level of humility. Someone asks what is my favorite part of Bhakti fest? When I can get into the kitchen and scrub the pots. That was my training from India was scrubbing pots. That was my service for the Guru's. You learn to scrub the floors and clean the pots. So humility is very big, and compassions are very strong with me, and integrity. Forgiveness. We have to continuously forgive each other. None of us are changing by somebody else. We can only change by going deeper inside of ourselves. That's what this process is all about.
We have a saying called "Be in the Bhav".
What comes after the BHAV?
The laundry.